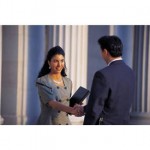 Studies have shown that most business plans fail due to strategy flaws, not execution errors. Getting guidance and advice from the right experts can make the difference. That's the reason I've been working with business advisors from my local SBDC centers and with experts from my local chambers on growth strategies for one of my companies. It's clear that one approach is to focus on obtaining government contracts. And one way to accelerate the chances of success is to consider teaming.
Teaming, or partnering with another company, to bid on government contracts can produce winning results… especially for a small business getting started in government contracting according to procurement specialists at the SBDC. The perfect serendipity is when both companies have complementary strengths, products or services. For example, you bring to the partnership a sophisticated manufacturing facility and top team, and the company you're teaming with has the relationships with the contracting officers, business infrastructure and marketing skills. Synergy is also key – from the leadership as well as with the teams from both companies.
A good teaming partnership can:
• open up a new pipeline of customers
• speed entry into government contracting
• create new opportunities to bid on contracts which might otherwise be too complex for either of your businesses
• increase revenues
• increase your resources and capacity
• minimize risks by sharing the responsibilities of a contract with another company
• generate credibility with government contracting officers
And the federal government, which is the largest buyer in the US of all kinds of products and services, is a big proponent of collaboration. Besides that, there are specific bid opportunities for small businesses, and minority and women-owned businesses. Government contracting can be daunting without expert help. If you're interested in learning more, I recommend you contact your local chambers, national chambers (such as the U.S. Chamber of Commerce), your local SBDC centers and your local SBA office. They all either offer procurement programs or can steer you to the right procurement specialists in your area. And most of the services and programs offered are free funded by the government, or offered as part of your membership. For example, the Latin Business Association here in Los Angeles just put on a fantastic Supplier Diversity Procurement Boot Camp session that I participated in for no additional cost other than my annual membership.
And, lastly there are companies looking for other companies to team up with. Watch this video blog about the NANA Development Corporation as one example.
Sending lots of good wishes your way!
Are you considering pursuing government contracts as a growth strategy? If so, please share your experiences in the comments section. If not, why not?
Michele Ruiz ~ Empowering Entrepreneurs to Empower Themselves!
I'm a former news anchor/reporter turned entrepreneur. I blog about my Life as a Latina entrepreneur which includes being a Mom, a Latina woman in the business world, and an entrepreneur. I share real life, tips, know-how, lessons I've learned and insights I think might helpful to you as I launch and build my next company. Hope you'll join me! You can follow me on my website MicheleRuiz.com, on my Facebook Page , Twitter (@micheleruiz01), LinkedIn,Google+, YouTube vlogs, and  Pinterest . Thank you for support! Mil gracias por su apoyo!