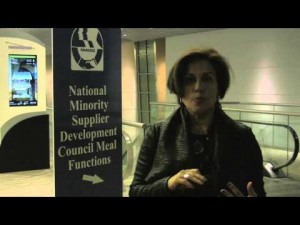 "Good luck is when preparedness meets opportunity." I don't know who coined  this pearl but I'm a believer! It pretty much sums up recent opportunities I've had to meet corporate buyers wanting to do business with both woman-owned (WBE) and minority-owned (MBE) businesses.
As a result of meeting with Supplier Diversity officers at conventions put on by the NMSDC (National Minority Supplier Diversity Council), WBEC West and the USHCC (United States Hispanic Chamber of Commerce), I have either obtained contracts or in active discussions about contract opportunities with Fortune 500 companies.
Some were willing to share the reason we're on to productive next steps: preparation.
That means:
having done research about the company in advance of our meeting
being prepared to talk about how our company can help them achieve their goals or solve a pain point
having examples bookmarked on my laptop from their own websites or their annual reports I can point to in talking to them anticipating they may not know everything that is going on with their behemoth company
providing "leave behinds" – a company summary and a capability statement
Usually these are 5-10 minute speed meetings at these events so my goal is not to close a deal. It's simply to get to a productive next step: demonstrate that we're a company worth talking to further, to establish a relationship with a person I can follow up with, and be able to move the conversation to the next step.
Surprisingly few MBEs and WBEs show up ready to talk about how they can be of value. Instead, more often than not, the tactic is "here's what we do or this is our widget" and then asking how the corporation can help them. Know that procurement officers hate that. Bad strategy. Good luck (contracts!) is when preparedness (first – get certified, then do your research and be ready to talk about how your business can solve a problem for a corporation, improve market share, increase revenues or some other way your products or services help with their business objectives) meets opportunities (join organizations that promote WBEs and MBEs and then attend conventions and other events where Supplier Diversity representatives will be in attendance).
Wishing you much success!
Watch this video with tips from the NMSDC Convention.
What About You
What challenges do you have certifying or getting contract opportunities? Do you have tips to share? Please comment below.
Like this? Share with friends and colleagues.
Michele Ruiz ~ Empowering Entrepreneurs to Empower Themselves!
I'm a former news anchor/reporter turned entrepreneur. I blog about my Life as a Latina entrepreneur which includes being a Mom, a Latina woman in the business world, and an entrepreneur. I share real life, tips, know-how, lessons I've learned and insights I think might helpful to you as I launch and build my next company. Hope you'll join me! You can follow me on my website MicheleRuiz.com, on my Facebook Page , Twitter (@micheleruiz01), LinkedIn,Google+, YouTube vlogs, and  Pinterest . Thank you for support! Mil gracias por su apoyo!