It's the start of the New Year and within our company we're getting ready for a strategic planning retreat to focus on future growth and what we need to do to get there. Key to that is revenue and profitable growth – either from current customers or new customers.
As a business owner, it can be costly to move forward based on what we think our target customers need and then find out our hypothesis was wrong. Guessing and executing on a marketing and customer acquisition plan not knowing if the facts support the plan can be disastrous. Many early stage businesses or new product launches fail because of a lack of customers. The business owners didn't find a product market fit. In other words, customers may not want what you're offering. If customers aren't offered something they want, need or value enough they won't pay for your product or service.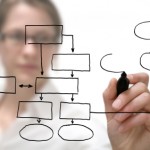 The key is to search for new customers who will buy your products or services (identifying a successful business model) before you spend a lot of time, energy and capital executing. Figuring out how to find new customers and make sure that you get the highest return on your marketing dollars often needs to start with good market research.
Below are some of the questions the market research should answer:
What problem are we solving?
How are our target customers currently solving that problem?
Is it a big enough problem or is our value proposition significant enough that they would want to pay for our product or service?
How many would want or need this product, and how large is the market if they all bought?
How big is MY slice of that market and is that enough to reach our goals?
How do customers look at the problem our product or service is intended to solve versus how we think they view the problem? Do they care and if so, how much?
Find out what would it take for them to make a purchase or buy from us? What would motivate a target customer to buy our product or service?
What are best marketing channels to find, engage and convert our potential customers? Is it online, in-person or both? Is there a marketing channel that gets us the biggest return on our investment – in other words can we find a sweet spot?
What trends are occurring that could impact our plan? Are there technological developments that could impact or affect our revenue plan? Any disruptors? (Think how streaming technology impacted Blockbuster.)
Who are our competitors? What are they offering? How big are they?
How is their product or service different from ours? How does their pricing compare with ours? What marketing strategies are they using? What is their sales funnel process? Are those strategies working or not?
What do we need to know in order to be successful?
How long is the sales cycle? Do we have enough working capital to sustain the company through a longer sales cycle? If not, how do we get that working capital? What can we do to shorten the sales cycle?
Could public policy impact our success? For example, would a change in regulations help or hurt our chances of acquiring new customers?
How do I find out the answers to these questions so I know whether it is worth executing on the plan?
It varies from different industries but here are some tactics and resources to get you started.
Approach customers directly. Go out and talk to potential customers about your service. Show them a basic model of your new product and get in-person feedback. Use diagrams and visual images to help show them what you're offering. Talk to as many as you can about the pricing, the purchasing process, and even how you're describing what you offer. Ask how would they describe the problem you're solving and what would would they be searching for online to solve that problem? Use email surveys or focus groups.
Ask employees, vendors, and even distributors the same questions.
Evaluate what you already know about your customers – from your database and customer relationship management software – and see if it answers any of your questions.
Use social media platforms to query your existing fans/customers who can be a focus groups.
Use the Internet for secondary data such as statistics, white papers, research reports. Below are some sources for consumer research.
Wall Street Analysts
Business Futurists who study trends and disruptive technology
And lastly, you might want to consider engaging market research agencies. Start with
What is key to keep in mind is that while you think you may have the greatest gizmo it's important to not guess and to find out directly from customers if what you're offering is truly desired by them or does it solve an important enough pain point that would be willing to make a purchase. Look at it from your customers' perspectives. If you can answer as many of the questions above, adjust your business model based on what you find out and then develop and execute on your marketing strategy your chances of spending a lot of valuable capital upfront with little traction can be greatly reduced and possibly even save your business. This is one way to plan for future growth and how to be sustainable and even identify new revenue opportunities.
Your Internet is an important tool in this process. Since it can take many hours to find and gather the research data, fast Internet speed can cut down on the time invested. Take a look at Verizon FiOS for your Internet needs, one of the fastest Hi-Speed offerings on the market.
Wishing you a wildly successful 2013!
What About You
What strategies or tactics do you use for strategic planning or identifying ways to grow your company? Do you have tips to share? Please comment below.
Like this? Please share with friends and colleagues.
Michele Ruiz ~ Empowering Entrepreneurs to Empower Themselves!
I'm a former news anchor/reporter turned entrepreneur. I blog about my Life as a Latina entrepreneur which includes being a Mom, a Latina woman in the business world, and an entrepreneur. I share real life, tips, know-how, lessons I've learned and insights I think might helpful to you as I launch and build my next company. Hope you'll join me! You can follow me on my website MicheleRuiz.com, on my Facebook Page , Twitter (@micheleruiz01), LinkedIn,Google+, YouTube vlogs, and  Pinterest . Thank you for support! Mil gracias por su apoyo!